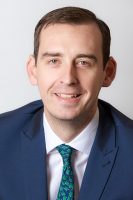 How long have you been with Paul Crowley & Co?
Since November 2010.
What area do you specialise in?
I specialise in Personal Injury, general Civil Litigation and Commercial Litigation matters.
What do you enjoy most about your job?
Getting the right result for clients when the odds seem stacked against them.
What are your ambitions?
A man's worth is no greater than his ambitions.
What do you like to do in your spare time?
Follow Liverpool FC and relax on holiday.