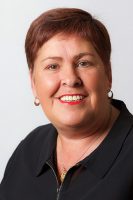 How long have you been with Paul Crowley & Co?
Since 1998.
What work do you do?
Secretarial work in the Criminal Department.
What do you enjoy most about your job?
I love typing and I am happy doing just that.
What are your ambitions?
I have no further ambitions with regard to work as am more than settled doing what I do.
The only other thing I would like to do on a personal note is to travel in a hot air balloon!
What do you like to do in your spare time?
I enjoy visiting friends, socialising, reading and going to bingo (haha).