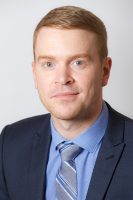 How long have you been with Paul Crowley & Co?
Since 2013.
What area do you specialise in?
I co-manage the Litigation Team in the Personal Injury Department.
I specialise in fast track and multi-track personal injury claims arising from road traffic accidents, accidents at work and slips, trips or falls. The majority of my caseload includes claims for anything from soft tissue injuries, broken bones and psychological conditions through to more serious and life changing injuries which may affect my client's future ability to work.
What do you enjoy most about your job?
I most enjoy negotiating high value settlements and successfully concluding protracted litigation. I am passionate about fairness and justice, holding strong values and beliefs both personally and professionally so there is no better feeling than getting a good result for my client.
What are your ambitions?
Having recently been awarded "Paul Crowley Employee of the Year 2016" my ambitions this year are to build on the success of previous years and continue to grow and develop the Litigation Team.
What do you like to do in your spare time?
I am a Liverpool season ticket holder and as such a lot of my spare time involves football. Aside from that I spend a lot of time either eating out or trying to work off all the extra calories.