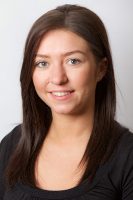 How long have you been with Paul Crowley & Co?
I have been with Paul Crowley & Co since January 2016.
What area do you specialise in?
I specialise in Road Traffic Accident Claims, Employers Liability and Public Liability Claims.
What do you enjoy most about your job?
I enjoy the one to one engagement that the office allows with client's, being able to liaise over the telephone and in person. I also enjoy working alongside my colleagues and learning new things from another person's perspective.
What are your ambitions?
This year I am hoping to begin studying for my Ilex to become a Chartered Legal Executive.
What do you like to do in your spare time?
I weight train 6 days a week so a lot of my spare time is spent in the Gym, or physical outdoor activities.