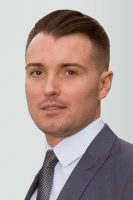 How long have you been with Paul Crowley & Co?
I joined the firm in September 2006 as the Secretary to Paul Crowley, Snr Partner. I commenced my training contract under Paul's supervision in May 2007 and qualified as a Solicitor into the Family Department in May 2009. I was appointed as a Partner to head up the Family Law Department in January 2011.
What area do you specialise in?
FAMILY & CRIME
Family: Specialise in all areas of Family Law with a particular interest in Public Law Children Matters. I have a wealth of experience in representing clients in complex matters including child neglect, non-accidental injury including shaken baby cases. I also have extensive experience of acting for clients in cases of serious domestic violence, including cases involving male victims of domestic abuse and domestic violence within same sex relationships. I conduct all aspects of family law advocacy appearing in all courts from the Magistrates to the High Court. I am also a member of Resolution.
Crime: Accredited Police Station Representative. I conduct all aspects of criminal defence from initial police station attendance to representation at court. I conduct various types of hearing including bail applications, pleas, sentences, and trials.
My experience of the two practice areas has proven crucial in a range of circumstances for example when a parent within children proceedings finds themselves facing criminal charges as a result of allegations of harm, neglect or injury to their children or within domestic violence cases where criminal charges have resulted from incidents of alleged violence or breach of injunction orders. My varied expertise have ensured that the client's interests are protected and represented to the highest possible standard.
What do you enjoy most about your job?
I particularly enjoy undertaking the advocacy of cases with both the family and criminal courts. Apart from advocacy, I like to progress a client's case swiftly to minimise delay and stress to the client and ensure I achieve the best possible outcome for them.
I also enjoy the management of the family team especially the training and development of the various team members to assist them to reach their goals and progress their careers.
What are your ambitions?
Personally, I am naturally very driven and determined so it's no surprise that I wish to be as successful as possible in all aspects of life.
Professionally, my main ambition is to continue with the success and growth of our family department to ensure that we achieve our full potential.
What do you like to do in your spare time?
Having recently taken up a professional cocktail making course I am currently trying to master the perfect Mojito, however remaining sober for long enough to grasp any of the techniques or recipes is proving difficult.
When not intoxicated I enjoy playing Polo, attending my local gym, going on holidays (especially skiing) and socialising with friends and family.