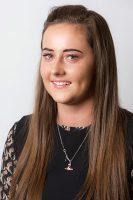 How long have you been with Paul Crowley & Co?
I started my employment in Paul Crowley & Co in September 2013. I began my employment as an admin clerk, was promoted to Legal Secretary within the family department in March 2015 and then took on my existing role as PA to our director John McKenna in January 2016.
What area do you specialise in?
I specialise in Family Law and Assist John McKenna our director and Head of Family department day to day.
I run Public Law Children files, organise and arrange John's Diary as well as my own, prep documents and evidence, categorise and prioritise emails, manage and prepare the court diary, take initial instructions from the Guardians and open new files on the case management system.
What do you enjoy most about your job?
I enjoy working alongside my family law team who make every day at Paul Crowley & Co a happy and friendly place to work.
I enjoy attending the family court and clerking cases with the Guardians and Barristers.
What are your ambitions?
I always like to set myself new challenges and be as successful as I can be. Having completed my Level 3 CIPD HR qualification in May 2016, I am now hopeful to qualify from LJMU in June 2017 and graduate with a Level 5 degree.
I would like to progress and eventually do a master's degree in HRM and in the future have the opportunity to become a manager.
What do you like to do in your spare time?
I like going on as many holidays as possible and spending quality time with my family and friends. My ideal day off would be spent shopping and having afternoon tea and cocktails.