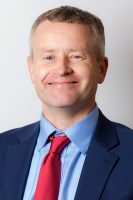 How long have you been with Paul Crowley & Co?
I started work with Paul Crowley & Co in June 2015.
What area do you specialise in?
I specialise in commercial litigation and property cases.
As Head of Commercial Litigation I represent companies, businesses and individuals in a wide range of cases, including:
property

contract

landlord and tenant

company, business and shareholder's disputes

problems with insurance companies and banks
What do you enjoy most about your job?
I enjoy closely interacting with clients and reaching a successful conclusion to client's needs.
What are your ambitions?
My long term goal is to continue to drive Paul Crowley & Co forward to the forefront of the North West legal sector.
What do you like to do in your spare time?
In my spare time I enjoy sport, particularly football and I am a certified scuba diver.