At Paul Crowley & Co w
e 
aim to set a standard of excellence when providing high 
levels of
customer satisfaction. 
We receive many positive replies to our 'Client Care Questionnaire' and it continues to provide immense satisfaction, when a client takes the time to acknowledge this.
Mr Cain a client of Paul Crowley & Co was particularly impressed with the level of service he received when dealing with Jane Butterworth from our conveyancing department and added this comment.
'I found all staff members extremely helpful, I was particularly impressed with Jane Butterworth who I found to be extremely helpful and courteous at all times'
Mr Cain | Client
Mr Cain kindly allowed us to publish his returned questionnaire: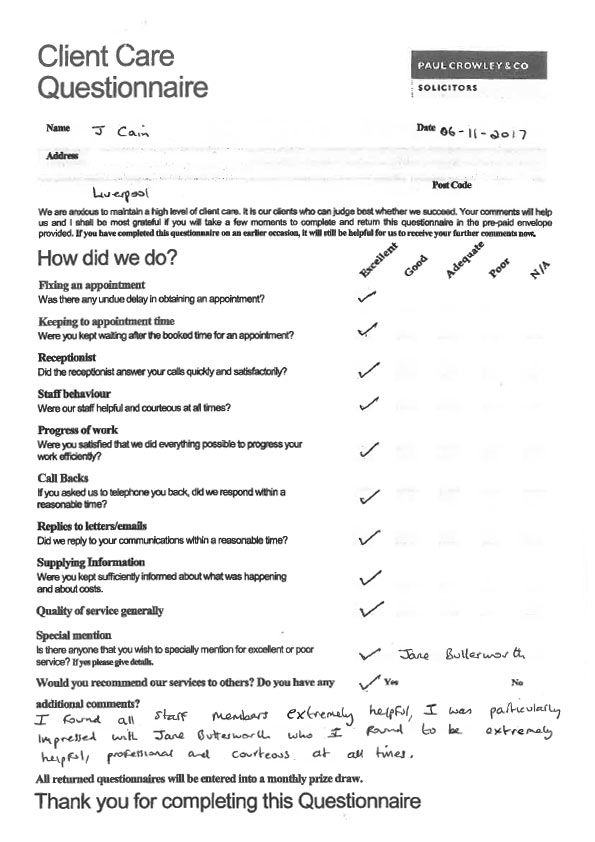 'All our client care questionnaires are highly regarded, it is our clients who can best judge whether we continue to succeed in maintaining a high level of professional service'.

Jane Butterworth | Conveyancing Executive
Paul Crowley & Co.
Please continue to send in your client care questionnaire as we value all our client feedback, it is only by listening to our clients' and continuing to acknowledge their comments that helps us to maintain and improve the quality of our service, and enable us to gain greater client loyalty and achieve higher levels of client retention.