Holiday Sickness Claims
If you have suffered illness on holiday due to poor hygiene or food poisoning you may be entitled to bring a claim for compensation.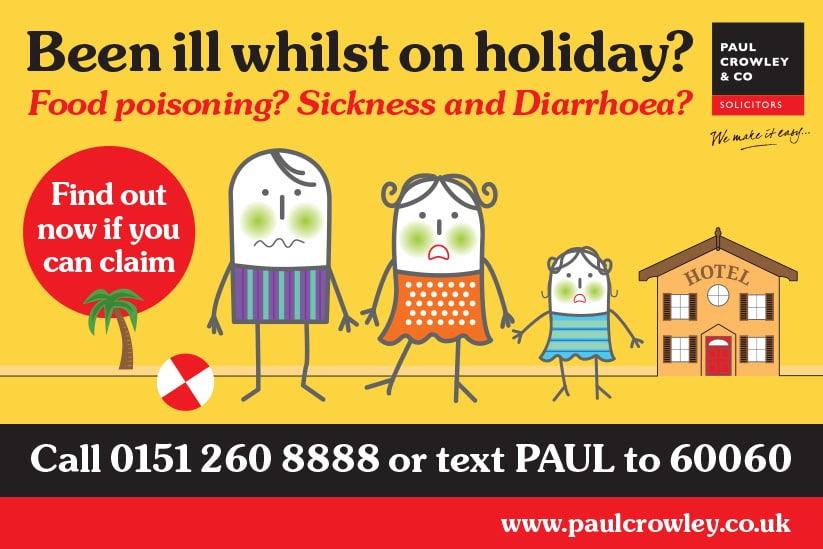 Holidays are a hard earned way to relax and spend quality time with our loved ones and should be an enjoyable and memorable time. We have the right to go on holiday and receive the same hygiene and health and safety standards from our chosen hotel that we would receive in the UK, but this is not always the case.
As a result of poor health and hygiene practices within some hotels abroad – illness and food poisoning from bacterial infection can often arise. Suffering with an illness abroad can not only ruin a holiday but also result in long term health problems.
holiday illness claim experts
Our specialised holiday illness department deal with all types of claims for bacterial infection, including Travellers' Diarrhoea, Salmonella, Cryptosporidium, Campylobacter, Enterotoxigenic E.coli, Shigella, Giardia Lamblia and many more including more serious cases where these illnesses lead to long term debilitating secondary conditions such as a reactive arthritis, kidney failure, and irritable bowel syndrome or chronic fatigue syndrome.
We are able to bring the claims under the Package Travel Regulations 1992 which state that the tour operator is responsible for any failings and should you fall ill or sick as a consequence of poor food handling practices or shoddy standards of hygiene at your hotel then you are entitled to receive compensation. Read More…
We have dealt with a large number of claims against the UK's leading tour operators.
We are able to deal with individual claims as well as large group actions from specific hotels.
The Package Travel regulation enables us to bring your claim within the UK under English law meaning there is no need to involve the local law of the country where you fell ill, speeding up and simplifying the process.
HOW DOES THE CLAIM PROGRESS?
In order for a claim to succeed it is necessary to prove liability i.e. that your opponent was negligent or at fault and as a result the client contracted an illness.
We will prove within your claim that the accommodation you were staying in failed to exercise reasonable skill and care in providing their services.
There are typically 2 ways of showing the Defendants liability;
If there was an outbreak of illness at the hotel and those people affected were suffering from similar symptoms, it can be convincing to suggest that the hotel was the cause. However, it is useful to try and identify exactly how the infection came about.

If you have been diagnosed with a specific illness or a specific pathogen (e.g E-coli or salmonella) it can help identify the source. Each pathogen has its own features and you can narrow down the incubation period, which helps identify when you most likely contracted it. You can also identify what the likely source of infection is and then determine where you were most likely to have come into contact with that source.
Within the claims process we will draft a detailed witness statement on your behalf to evidence the failings of the hotel and the illness you have suffered as a result. There is no need to attend any appointments as our specialist gastroenterologist and medical experts will complete a desk top report to further evidence your claim.
What can you claim holiday sickness compensation for?
Generally, the claim will be split into two categories;
General damages, which will be for your pain, suffering and loss of amenity. This can also include a sum for your loss of enjoyment of the holiday and for others on holiday with you.
Special damages, which will be any out of pocket expenses, including the holiday cost itself for the days you were ill, any treatment costs, medication, loss of earnings and any expenses incurred as a result of the illness.
Contact Paul Crowley & Co's holiday sickness department today to find out how we can help you claim for:

Campylobacter compensation

Cryptosporidium compensation

E-coli compensation

Gastroenteritis compensation

Listeria compensation

Salmonella compensation
WHAT TO DO NEXT…
For a free no obligation chat with one of our Holiday Sickness Solicitors call us now on 0151 264 7363, text PAUL to 60060 or email us.
Follow us on social media
Keep up-to-date with Paul Crowley & Co by following us on social media! Tweet us or message us on Facebook: