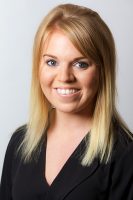 How long have you been with Paul Crowley & Co?
Since March 2011.
What area do you specialise in?
I work within the Family Department, in specific supporting Jennifer Carr, solicitor, who specialises in dealing with matrimonial and financial matters.
What do you enjoy most about your job?
The people, great bunch of work colleagues. Great work atmosphere and every day is different.
What are your ambitions?
To have my own little café.
What do you like to do in your spare time?
Meeting up with friends and family, wine and dining!
Keeping active, going the gym and on bike rides.
Skiing and city breaks.