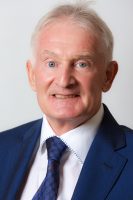 When did you form Paul Crowley & Co?
I qualified as a solicitor in September 1982 and joined a firm based where the Breck Road office of Paul Crowley & Co are now based. I became a partner in that firm in 1984.
In 1991 I formed Paul Crowley & Co, since I began we have grown from a one partner Firm with one secretary and an office junior to a 7 Director Firm employing almost 70 staff.
What area do you specialise in?
As a Firm we pride ourselves on being able to provide a one stop legal service.
Consequently over the years I have dealt with a wide variety of different types of law.
I now specialise in personal injury work and spend a lot of my time managing the Firm.
What do you enjoy most about your job?
I enjoy the interaction with clients and trying to deal with their legal matters in a way that exceeds their expectations. Also we try to employ our staff from the locality and I am proud to be able to provide so many jobs and also over the years to have been able to train so many youngsters from the locality to have become solicitors.
What are your ambitions?
I would like to cement our position as one of Liverpool's leading Law firms.
Personally I would love to be able to run a marathon in under 3 hours 30 minutes.
What do you like to do in your spare time?
I enjoy a variety of sporting activities. I am a Liverpool season ticket holder and would love to see us knocking Manchester United "off their perch". I also enjoy eating out and drinking wine.