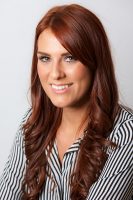 How long have you been with Paul Crowley & Co?
Since September 2013. 
What area do you specialise in?   
I am a Legal Assistant in the Private Client Department. Our work includes Wills, Probate, Lasting Powers of Attorney, Court of Protection Applications, administration of Estates etc. 
What do you enjoy most about your job?
I enjoy the area of law as it is personal and enables me to assist people through difficult periods in their lives. I have also made some good friends during my time at the firm. 
What are your ambitions?
I would like to build on my knowledge and experience in Private Client and be an integral part of the department's future success. 
What do you like to do in your spare time?
I like to spend time with friends and family, go to the gym and walk with my Great Dane, Ruby!