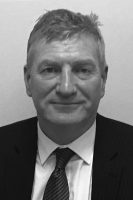 Martin has over 36 years experience of working within the Criminal Justice system in both the public and private sector.
He has been a Consultant with Paul Crowley & Co since December 2015.
He was awarded a Masters Degree in Law from Liverpool University having specialised in International Human Rights & The European Convention on Human Rights
Martin has many years experience of dealing with all aspects of serious crime ranging from drug conspiracies, money laundering and proceeds of crime proceedings. He represented the principal offender in the 2007 murder of schoolboy Rhys Jones.
Martin is an advocate in the Magistrates & Youth Court. He has many years experience of conducting trials and other court business. He specialises in providing advice to suspects at police stations.
A committed Defence Lawyer Martin always seeks the best possible outcome for clients in what can often be difficult and challenging circumstances.
A shareholder at Everton Football Club, Martin is a dedicated follower of the blues and also a keen squash player.