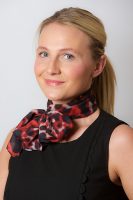 How long have you been with Paul Crowley & Co?
Since November 2006.
What area do you specialise in?
I am the assistant to Paul Crowley & Co's office manager Rachel Frost.
What do you enjoy most about your job?
Every day is something new – never get two days the same.
What are your ambitions?
A rewarding working life that ensures me long term happiness.
What do you like to do in your spare time?
Spending time with my family and socialising with friends.
I also attend my local gym a few times a week to keep my mind and body healthy.