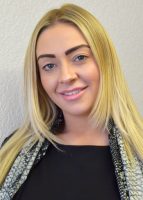 How long have you been with Paul Crowley & Co?
I joined the company in November 2016. 
What area do you specialise in?   
Employers Liability, Public Liability and Road Traffic Accident (RTA) Litigation.
What do you enjoy most about your job?
I enjoy engaging with clients whether this is face to face or over the telephone. The best part of my job is getting clients the compensation they deserve, for me I feel a huge amount of satisfaction when my client's case is successful and they are compensated appropriately.
What are your ambitions?
Professionally I want to be a well-recognised and respected solicitor and want to progress my career at Paul Crowley & Co as far as possible.
What do you like to do in your spare time?
I enjoy taking my dog Rosie for long walks, I try and find a new place to explore with her each week. I also enjoy getting engrossed in all the new TV boxsets and I am always looking for new interior design ideas for my house.