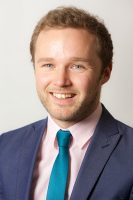 How long have you been with Paul Crowley & Co?
I started work at Paul Crowley & Co in 2012.
What areas do you specialise in?
Civil and commercial litigation. I also do some employment law and HR work.
What do you enjoy most about your job?
The people I get to meet and the unpredictability of one day to the next. It is never dull.
What are your ambitions?
To write a book.
What do you like to do in your spare time?
Reading all of the books and eating all of the food.