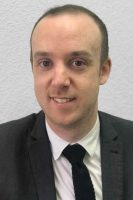 What area do you specialise in?
I specialise in matrimonial law, focusing on the financial aspects of divorce and separation.
What do you enjoy most about your job?
Resolving difficult situations for clients. Every day brings something different.
What are your ambitions?
To carry on improving and progress as far as possible within matrimonial law.
What do you like to do in your spare time?
I enjoy sports, eating out, and socialising with friends.